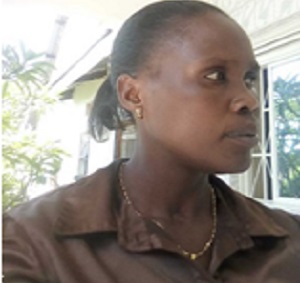 Hellen Angolere
Program Officer, Moroto
---
Hellen Angolere, is a Program Officer under the Local Activism Department at CEDOVIP, based in Moroto district. She is part of the team at the forefront of implementing SASA! to prevent Violence Against Women and Girls (VAWG) and Female Genital Cutting (FGM) in Moroto district.
Hellen holds diploma in conflicts management from Kesmonds International University (KIU America) and a certificate in Public Administration and Management from Makerere Business Training Center.She has over 12 years' experience in community engagement and development.
She has previously worked with various institutions including Concern World Wide as a Health Promoter; Community Activist (CA) for CEDOVIP; Community Based Trainer (CBT) under the Early Steps (Strong Foundation) Project with Private Sector Foundation Uganda (PSFU) in preventing Violence Against Women and Children (VAW/C) in Nakapiripirit District; and Save the Children as Agro-pastoral field school facilitator. Hellen is very passionate about working with communities to ensure safer and healthier relationships and happier homes.
She is known for her calmness and friendliness and has a good working relationship with the teams she directly works with in the community.