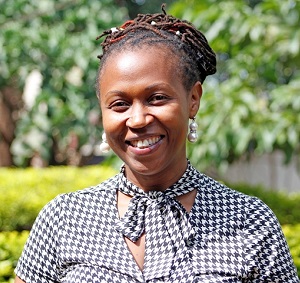 Tina Musuya
Former Executive Director CEDOVIP
---
Tina is the former Executive Director at CEDOVIP. She holds an MA in Sociology from Makerere University. Under her guidance, CEDOVIP won the 2010 UNAIDS Red Ribbon Award for innovative work in preventing violence against women and HIV and also successfully piloted the SASA! Programing in Kampala that was the site of the ground breaking SASA! study that brought to light evidence that preventing violence against women through social norm change is possible.
Tina has several years of experience working with communities, police, civil society and policy makers to prevent VAW. She oversees CEDOVIP's violence against women prevention work. She coordinated the development of the Uganda Police Force handbook and the training manual in order to diversify the constituent base. Tina helped draft and successfully campaigned for passage of the Domestic Violence Act, and the Kawempe Domestic Violence Bylaw.
Tina's positive thinking brings a sense of gratitude and optimism to the CEDOVIP team. This has made her the "CEDOVIP mentor" who wants to see everyone succeed in their job and role.