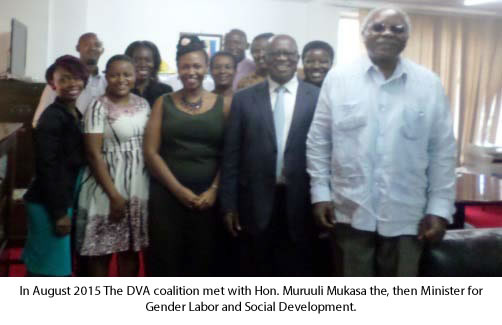 Cabinet approved the Elimination of Gender Based Violence (GBV) policy for Uganda in its Wednesday 17th August, 2016 seating.
This was announced by the State Minister for Gender and Culture Hon. Peace Mutuzo on Thursday 18th August, 2016 at Hotel Africana during the National dialogue on unifying action for medico-legal services for GBV survivors.
"I celebrate with all of you today because the Cabinet Memo on the GBV policy was unanimously passed. Everyone in Cabinet poured their hearts out on the need for a policy' said Hon. Peace.
This followed continued lobbying by the Domestic Violence Act Coalition over the years for Cabinet to have the policy passed to pave way for the implementation of the Domestic Violence Act 2010. (http://www.cedovip.org/index.php/news-events/latest-news/85-ministry-of-gender-commits-to-have-the-national-gbv-policy-finalized-by-end-of-year ).
See more details