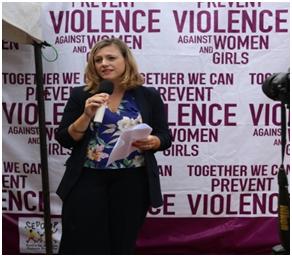 The Italian Deputy Ambassador to Uganda H.E Lorenza Gambacorta who officiated at the CEDOVIP-Kyambogo University dialogue under the theme: "Every girl counts, what actions will you take to keep girls in school" aimed at;
i) Raising awareness on violence that young women and girls experience in and around the University.
ii) Inspire the University and Banda community members to prevent and respond to violence against women and girls at the University by making commitments of keeping girls in school.
She pledged her commitment and support to campaigns and programs to end violence against women and girls in Uganda. Her pledge came during the 16 days public dialogue organized by CEDOVIP with support from Oxfam p and 14th Guild Council of Kyambogo University at Banda Community. The
During her key note address Ambassador Lorenza decried the high prevalence of Violence against women and girls cases in Uganda which remain epidemically highly and noted that everyone has a part to play to end VAWG urging that both boys and girls should be included in the VAWG advocacy campaigns.
"European Union has supported several programs aimed at responding and preventing violence in Uganda through various organizations. We arecommitted to continue supporting programs and campaigns to end VAWG".
Poster discussion: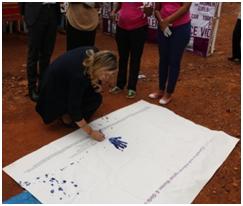 The poster facilitation under the theme; "Every girl Counts! What action will you take to keep girls in school?" done by CEDOVIP staff enabled participants to break the silence on VAWG and the participants recognized that there is a lot of injustices within the university and in the entire community. Some community members spoke out about the girls residing in hostels who face numerous challenges such as sexual harassment from their partners, hostel owners and strangers like bodaboda men.
"University girls are sexually and physically abused both in and around the university. I always see bodaboda men throwing insults at girls, we have also witnessed various incidences where girls are beaten up by their boyfriends in hostels, we have heard of many such cases within the university. We as community members should support the girls by reporting the cases to authorities"-Male community member, Banda Zone B8
In his remarks, the guild president of Kyambogo University noted that violence against women and girls does not only affect the women/girls but everyone in the community. He said that in the University there are very many young women who experiencesexual harassment but suffer silently . He called upon all students to use the guild gender desk to report cases of violence; he pledged to work hand in hand with CEDOVIP and other organizations to see that all students in Kyambogo live free from violence.
"in my office, we have a desk for such cases of violence that girls experience. I urge everyone to use all avenues in the university including the police and counseling department to report cases of violence."-Guild president, Kyambogo University.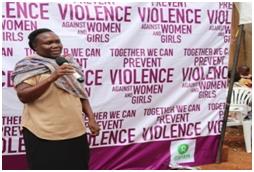 The Guild President's message was re-echoed by the Deputy Dean of Students who called upon the community to break the silence by reporting men who sexually harass girls and parents that marry off their daughters at an early age.
The Oxfam human rights advisor also noted that Gender Based Violence is an issue of inequality that cuts across regional, national and international level. She urged everyone to make commitments to ensure that girls are supported to complete school.
University and Banda community leadership committed to work together to protect girls from violence and to support girls experiencing violence. The local leaders committed to refer survivors of violence to various referral points and to speak out against acts of violence in their communities as well as keep relevant university committees informed of the safety concerns of girls in the community. Participants made signed up to prevent violence against women and girls on a commitment cloth.
More pictures from the event can be accessed here