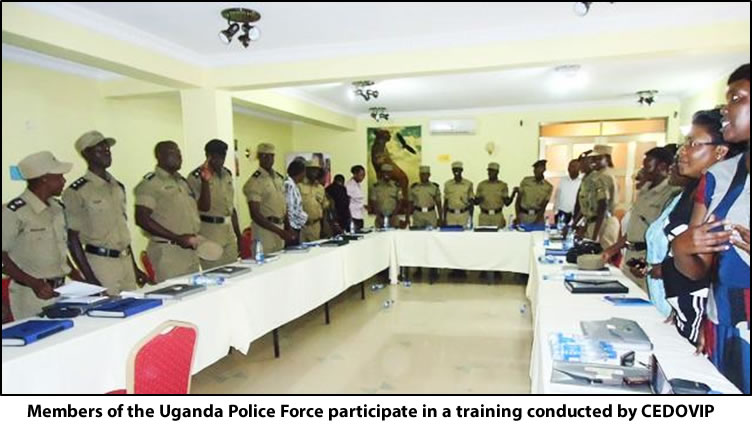 Over ten years of continuous, hard work is finally about to pay off in Uganda. The Uganda Police has developed a new curriculum which, for the first time, will include training on gender-based violence (GBV) issues and crimes. The Center for Domestic Violence Prevention (CEDOVIP) began working with the police in 2004 to advocate for GBV to be included in the police training curriculum. GBV was included in the curriculum and the curriculum was approved by the Police Council to be a standard tool for all trainings. The curriculum is now in its final stages of being accredited by the National Council of Higher Education and will be implemented soon. This is the story of CEDOVIP's close partnership with the police, and the positive impact that this partnership is about to have on the community.
First Steps: We Have a Problem
In the early years of CEDOVIP's relationship with the police, it was evident that many officers had limited knowledge and skills to address incidents that involved gender-based violence (GBV). Prior to training, many officers did not take victims seriously and frequently put victims of intimate partner violence in more danger.
One of the issues that CEDOVIP addressed was that the officers did not take survivors of intimate partner violence seriously. Several officers would laugh when victims of intimate partner violence came for their help. In one case, a man gave his partner black eyes and plucked some of her braids out. Instead of creating a safe space for the survivor, officers laughed at her condition. They quickly spread gossip about her physical state, and turned her into a spectacle for officers to come see and laugh at.
Other officers had misconceptions about intimate partner violence and had negative views of women. The Executive Director of CEDOVIP, Tina Musuya, recalled a story in which police officers convinced a victim of domestic violence to return to her husband. The husband had sobbed in his prison cell to the point that officers sympathized with him. Not recognizing that manipulation and reconciliation are components of the cycle of intimate partner violence, the officers insisted that the woman forgive the 'poor' man. They told her that his crying was unusual and obviously a sign of his remorse. Unfortunately, he was manipulating the officers and his wife for his own benefit, and he continued to beat his wife even more upon his release.
Perhaps the most poignant example of the police's limitations when handling cases of GBV was the case of the stabbed husband. In this case, the husband had played the role of the victim, while his wife showed no signs of remorse for stabbing him. The police initially believed the man's side, but Tina Musuya suspected that there was more to the story. Upon questioning the woman, they learned that the husband had abandoned his family for another woman. Seven years later, he came back to his wife and expected a warm welcome. The wife and children were unsure of his intentions, and did not receive him as well as he expected. That night, the wife insisted that they sleep in separate bedrooms because she suspected him of being HIV positive. He immediately began demanding sex from his wife, but she refused, insisting that he needed to be tested for HIV first. He grew angry, raped her that very night, and she stabbed him. Even after the story came out, the husband still insisted that he was not guilty because his potentially positive HIV status was included in the marriage vow, "in sickness and in health". He said that because he loved his wife, he forgave her, dropped the charges against her and therefore wanted her to return home. The wife adamantly refused to go home with him. Upon hearing his argument, one police officer brought out the Bible, making reference to a preaching on marriage, "what God has put together, no man should put asunder!" At this point, Tina Musuya had to inform the officer that reading the Bible and praying was not part of his job description; his job was to enforce the law of Uganda.
In other incidents, the police simply did not know which questions they had to ask victims, perpetrators or witnesses to enable them to stay focused on the exact incident that had been reported. Sometimes police officers asked women to tell them about the whole story. Often, women gave the history of the entire relationship, including the positive moments. These stories are irrelevant when considering specific incidents of violence, and they took up too much of the police officers' time. When the police heard positive aspects of the relationship, they blamed victims because they felt her perpetrator was an overall good man. Other times, police officers would ask questions that inherently blamed the victims. Questions like, "Why did he beat you?" suggest that the victim deserved her treatment because she was being punished for certain behavior. The interviews also frequently took place in a full office where other clients could comment on the testimonies and make judgments about the cases. Comments and critiques from unqualified listeners often biased the officers' actions. All of this demonstrated a need for a training program that would teach the police to ask less biased questions that focused on the incident at hand, rather than the history of an entire relationship. The officers also needed to observe the victim's, witnesses' and perpetrators' confidentiality as an important factor for enabling justice to be delivered while also protecting the dignity of those involved.
CEDOVIP began working with the Child and Family Protection Unit in 2004. Since then, police officers within that unit have been receiving basic training by staff at CEDOVIP. These trainings included teaching officers how to interact with and how to help victims of intimate partner violence. Initially, CEDOVIP hoped that newly trained officers would be able to generate activism and a movement within the force. When team members monitored and observed police, however, they noticed there were major gaps between the training that the officers received and the way they conducted themselves in actual cases. Although some officers may be employed under the Child and Family Protection Unit, the police had the authority to deploy these officers in any other department that they were needed. This often meant that the officers that CEDOVIP had trained to effectively handle GBV cases were deployed to other departments, while new officers who were not trained on GBV were placed in the Child and Family Protection Unit.
Some Progress Was Not Enough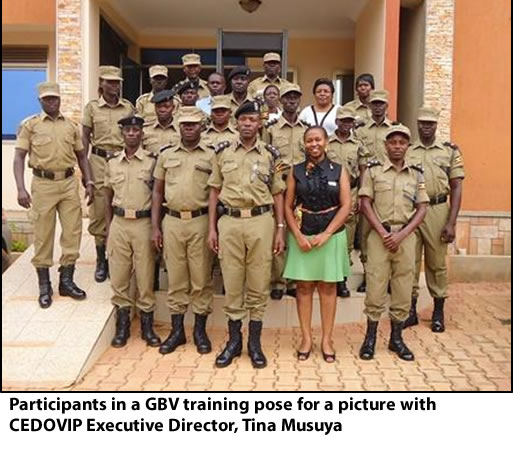 In 2008, CEDOVIP developed a Police Domestic Violence handbook for police that dealt with issues of gender-based violence. Among other things, this handbook contains guidelines for interviewing witnesses, perpetrators and victims in GBV cases, what an officer can do in those cases and which laws to use to help the victim. It helped address that situations of domestic violence are more complicated than other crimes because of the underlying relationships between the parties involved, power discrepancies, manipulative behavior, and repetitive cycle that traps women in violent relationships. Although the handbook helped in some situations, there was still a need for more progress. After observing officers again, CEDOVIP understood that standard operating procedures needed to be changed as well.
Once they identified these gaps, CEDOVIP moved towards bringing these weak areas to the attention of police leadership. To do this, CEDOVIP had to understand the hierarchy of command within the police force. In order to proceed with creating a new curriculum, they had to write to the Directorate of Human Resource Development, specifically the Department of Planning and Quality Control that oversees trainings for all officers. CEDOVIP's approach was to use evidence to point out problems within the officers' training and offer solutions to these problems for no extra cost. The Planning and Quality Control had recognized when certain officers performed well in handling of GBV cases, and these officers were often trained by CEDOVIP. After seeing that the training was working, the police agreed to allow CEDOVIP to help develop new training methods and the new curriculum.
Developing the Training
CEDOVIP immediately understood that these trainings needed to be formal and part of the mainstream police functioning. CEDOVIP wrote to those high in command to recognize that GBV issues are more peculiar and complex than other issues that the police face. Because of these characteristics, trainings would need to increase knowledge and influence change in attitudes while being skill-based so that the lessons could be applied in actual situations. CEDOVIP only requested time, attention and recognition so that issues of gender-based violence would be taken more seriously by the police force. CEDOVIP helped test these trainings in the field and reviewed them. Within the training school, members showed the different dynamics of gender-based violence. These trainings were organized for all levels of police including the top leadership.
To make sure that the training was adequate, CEDOVIP lobbied for more time to be set aside for this training during the police training course. Originally, the course was going to include a total of 8 contact hours. Since the training would include knowledge, attitude change and practice, and more of the participatory sessions it was important that this training be given the same amount of time or more time than other types of crimes that officers are trained to handle. CEDOVIP's advocacy paid off, and the course has been awarded 76 contact hours.
As time continued, CEDOVIP's relationship with the police turned more into a partnership. By being present, persistent and acting as a partner, members of CEDOVIP who came to the police were well-respected and heard. They understood that this would be a long-term process that would require a commitment. They held the police accountable, but also recognized the progress that the institution had made.
The Progress We Have Made
The Uganda Police Force is now in the final stages of accrediting its courses. This means that the Probationer Police Constables' Initial Training Programme and the Cadet Officers' Initial Training Programme will be able to award diplomas and certificates once they are certified by the National Council for Higher Education. The Probationer Police Constables' Initial Training Programme will lead to the award of a Diploma in Police Studies, and the Cadet Officers' Initial Training Programme will lead to the award of a Post Graduate Diploma in Police Studies. Thanks to CEDOVIP's work over the past 12 years, Sexual and Gender-Based Violence (SGBV) modules will be included in the police training curriculum. CEDOVIP also played a major role in developing the content in the modules in both programs, particularly: Module 6 and Module 10.
The sixth module introduces trainees for both programs to the human rights standards and international legal framework including the Universal Declaration of Human Rights among others. The greatest success in the development of this curriculum, however, is Module 10 which is on SGBV and Child Protection.
Module 10 aims to introduce trainees to gender roles in the workplace and society so that they may better understand the procedures of how to address the different related situations that police may face and how to handle vulnerable groups and prevent crimes in SGBV. Module 10 has several important learning goals for trainees:
Be able to distinguish between the different concepts related to sex and gender and how these terms apply to all people living in Uganda
Recognize and enforce the laws related to these issues while following the appropriate code of conduct (including gender sensitivity) when addressing the issues
Recognize their roles in addressing SGBVP cases, including prevention of future crimes.
Module 10 will include 76 contact hours– a necessary amount of time to cover the unique challenges that come with addressing gender-based violence crimes. It includes topics such as definition of sexual and gender-related concepts, introduction to SGBVP including forms, myths and stereotypes, SGBVP as a human rights violation, domestic violence, characteristics of suspects, victims/survivors of SGBVP, guiding principles for handling GBV survivors with safety, respect and confidentiality, and legal framework including the Domestic VIolence Act, FGM Act, Trafficking in Person's Act, and others. Some of the senior trainers who will facilitate the module include Commissioner of Police, Dr. Kamya John, Superintendent of Police, Acting Commissioner Maureen Atuhairwe, and Superintendent of Police Rose Nalubega in cooperation with beneficiaries to CEDOVIP's Training of Trainers programs on SGBV.
These modules are considered core or mandatory courses, meaning that in the near future, all new police trainees will receive general training in addressing SGBV. This demonstrates the increased importance and consideration given to the sexual and gender-based violence cases within the police institution.